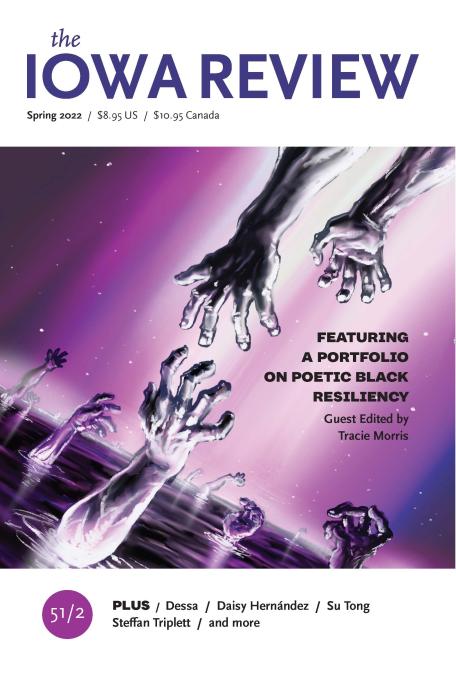 Our new issue, 51/2, is here, and it features a portfolio on poetic Black resiliency curated by the brilliant Tracie Morris and containing work by Black luminaries like Yona Harvey, Terrance Hayes, Douglas Kearney, Nathaniel Mackey, and Harryette Mullen. We want, especially, to draw your attention to the cover art by illustrator, animator, and Afrofuturist Tim Fielder. Fielder is known for his graphic novels, Matty's Rocket, INFINITUM, and High John Conqueror. His work was recently showcased in a career retrospective exhibition, Black Metropolis: 30 Years of Afrofuturism, Comics, Music, Animation, Decapitated Chickens, Heroes, Villains, and Negroes, at The Hammonds House Museum. The image Fielder lent to us, in Morris's words, "harken[s] to the space for the breath.... The artwork by Tim, in its multidimensional vibrant hues, also evokes synapses between neurons, an infinite 'black poetentiality in space.' One could say this for all of the literal imagery and figurative imagery/imagination throughout the section. These are just a few manifestations of the insistence of breathing, inspiration, existence, despite confrontations about our shared space, our shared air." 
To learn more about Fielder's work, visit his website, timfielder.com, or watch his live art session below. 
Tim Fielder is an illustrator, concept designer, cartoonist, and animator born in Tupelo, Mississippi, and raised in Clarksdale, Mississippi. He has a lifelong love of Visual Afrofuturism, pulp entertainment, and action films. He holds other Afrofuturists such as Samuel R. Delany, Octavia Butler, Pedro Bell, and Overton Loyd as major influences. He is known for the graphic novel INFINITUM: An Afrofuturist Tale, published by HarperCollins Amistad in 2021, and the Glyph Award–winning Matty's Rocket.