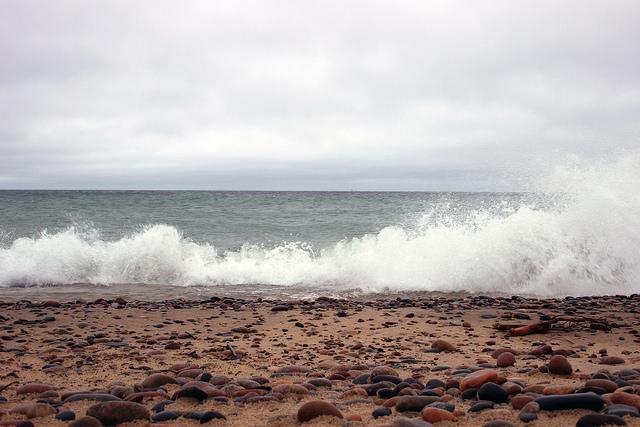 Superior, by which I mean the lake was not 
As much as we imagined 
It, a synonym, or else the surface 
Cold because the light 
Was catastrophic
In the distance, no, the water made of its 
Appearances, the presence of 
A promise formed 
The shore, the waves repeating 
And repeatable. I had thought 
That I was thinking 
Up, was therefore under it, the sky  
Was strange within 
The world at once upon 
But not itself 
Belonging. We looked away, 
Were other than 
And then the day was not of what between us 
Edged, growing 
Into sand the dark dissolved
To something less
Than brilliance, the wind within 
Itself a distance 
Yet again, a distance. I had to ask it  
Everything. Our voices 
Almost mattered 
Making sense, the lake is every 
Kind of blue today, 
You said, it is 
And it is cold, I know, but what will come
Of it tomorrow. I can't 
Pretend what's left 
That we without ourselves
Are shaking, made of this 
Material. Or maybe it, what was it, 
Only mattered into, formed itself  
From nothing new, a sound 
I said, or else I only 
Listened to, or thought to try but couldn't 
Say existence is 
An exit we have traced 
Our lives to find it 
Thus, the line the trees have made 
Behind themselves, green 
And grey where people aged alone 
In separate languages, the shade in which 
Increasingly their names 
Became mechanical, becoming difference,  
Always difference, as if no other shore of light 
To hollow out or follow, no path
Behind us leading each 
Unto each other here, where it, whatever is
Is never certain, love, unless 
Alone that we are possible 
In this, the unkempt
Vacancies of how 
Between the beautiful and full 
Of loss, that I might reach for you 
And find not only clarity, but solitude, a terror turned to wonder, 
Tuned to our despair 
Nicholas Gulig is a Thai-American poet born in Wisconsin, and the author of North of Order (YesYes Books). Educated in Montana (BA), Iowa (MFA), and Denver, Colorado (PhD), in 2011-2012 he was the recipient of a Fulbright Fellowship to Bangkok, Thailand. Currently, he lives in Fort Atkinson, Wisconsin, and teaches at the University of Wisconsin-Whitewater.
Photo by USFWSmidwest