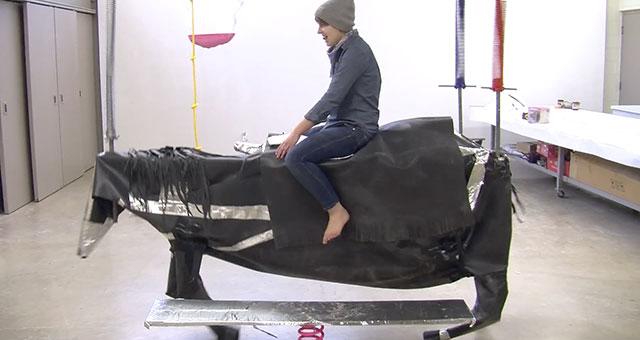 Sarah Coates has led an intriguing life so far. A graduate of Mount Holyoke College in Massachusetts, Coates has since had 75 pounds of wood fall on her head, worked at a toilet factory, been hit by a car, fallen in love, worked as a grants manager at a public foundation, did some "art things," and fallen in love. We recently caught up with Coates to talk about the inspiration for her story "Bang!", which is forthcoming in The Iowa Review's winter issue.
TIR: Your story "Bang!" is going to be in our upcoming issues. What would you say inspired this story?
Sarah Coates: I was working at a toilet factory as a copywriter/marketing whatever whatever and was squatting in a studio in North Adams, Massachusettes, where, when I slept, lead paint would fall into my open mouth. It was an interesting time, right out of grad school. Better than sleeping in the unfinished basement of college kids. That was a low. And a high. But I was feeling wildly frustrated or hostile or something like a thousand awful pin pricks in very sensitive areas with the strangeness of my life that seemed so heavily influenced by a specific type of toxic masculinity. So I decided to make fun of it in a daggers and knives way that made me feel aggressively good. I was also reading Voices in the Night by Steven Millhauser at that time, and although my words are very different, I was profoundly influenced by his writing. Another unexpected influence was that after half writing this story (which began as a novella), I was hit by a car in a crosswalk in Colonial Williamsburg. So a lot of the editing was done profoundly concussed. And, while I wouldn't recommend editing with a brain injury, I think it let me work in an "I don't give a fuck" sort of way!
"Bang!" features some pretty strange imagery, like "a large airplane filled with Nazis who had roasted pigs as faces." What do you feel the purpose of such images is for your readers, and how do you come up with them?
I think it was important to give into the surreality of my little ugly story, because it came from this really special place of joy and anger. I'm not so sure I thought thoroughly about the specific purpose of the pig roasts. Other than that, it, I think, sort of sums up the general discomfort that I wanted to convey with the actions of the characters in my story. It was from a real dream. In my dream, though, they were perfectly bronzed Thanksgiving turkeys on a big pile of lettuce surrounded by little decorative tomatoes. Which, now that I think about it, is probably better than roasted pigs. Shame.
Images like that tend to just sort of boil up and then are refined by lots and lots of editing. "Bang!" started out around 90 pages. I'm sort of a word vomiter, then a machete wielder. I get a sick joy from both. There's something special about taking out whole pages and throwing them in story hell. Maybe it's because I'm a sculptor by trade and a carver by nature. (I hope this doesn't make me seem like a serial killer. I mean carver as in wood, not flesh.)