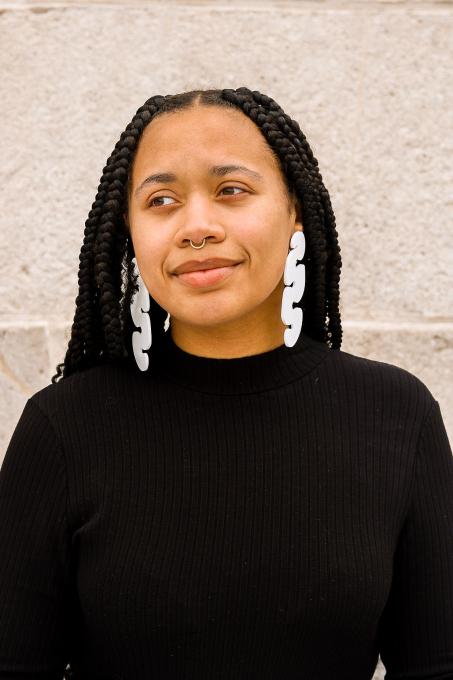 We are delighted to present Sydney Mayes's poem "self-portrait as a young woman," winner of the David Hamilton Undergraduate Creative Writing Prize. This prize is sponsored by anonymous donors who wish to honor the mentorship and support they and other students at the University of Iowa received from Emeritus Professor of English David Hamilton. In addition to publication online, Mayes will will be awarded a $500 scholarship. 
---
                                —after Auguste Rodin's Young Woman
you know when i was younger i was a pageant winner
in the winter i will move to tennessee with my breasts
and my books stack up all around me how many sonnets
can one have a glass a quiet hour a pink sash and trophy
case by case basis they'll evaluate applications for financial
assistance zipping up taffeta dress, sucking in instinctively
ospreys run from threats including maternal talons, date palms,
heat: stage lights, not included in utilities, press and curl, used to
keep vigil for mother's intemperate breaths, arrival of the red tailed
hawk the foundation, the pearls, the underwire, the lymph nodes it cut
umbilical cord clinging to placenta pickled in a jar with bone
white the trophy base, sticking out of dumpster's polymer mouth
callous red, i am so happy to have had to give up everything
close to city center is minimum two thousand a month
goes by and i still have no backbone, no silence, no address
me the way you would a martyr all these piercings no sainthood
requires, much like pageantry, that one be virtuous, worthy of imitation
crab for dinner, when you thought about adulthood was this the image
system of the poem is hyper concerned with the avian
flew over my head, all the jokes and unexpressed standards
for how i will look: happy, pretty, painless, in the
know this is my body now. i am so happy to be so ugly
ducklings chafing apartment complex's artificial stream
you know, the question is always where is my skull
the answer now, is i have taken the first steps to craft it.
---
Sydney Mayes is a poet from Denver, Colorado. Winner of the 2021 Iowa Chapbook Prize, her poems have been published and are forthcoming in Denver Quarterly and Prairie Schooner. They are an MFA candidate in poetry at Vanderbilt University.