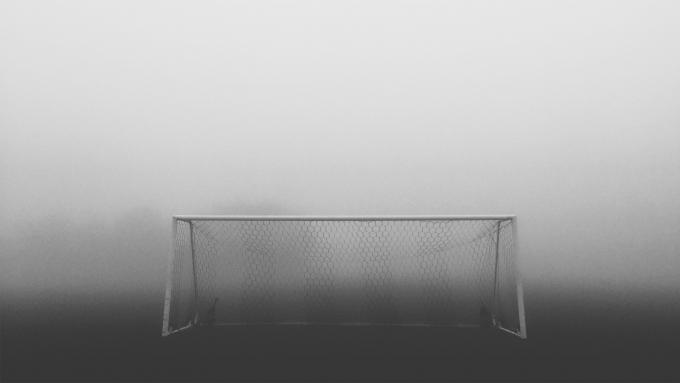 This is my first draft and I join team 'Keep Sleep.' 
My number is behind me on my uniform.
On occasion I feel the iron-on plastic's curve 
and it feels like an eight. I might be an eight.
Our jerseys are off-white; our symbol is a pile
of fingernail clippings, slightly turned 
to the left. A lawsuit requires this.
If shown from above, the pile too closely
resembles the symbol for 'breath.' 
Our team colors are tooth white & brain-
white and diamond. Our cheer goes
like gin down our followers' throats. 
Tomorrow, we play the team 'Recall of Elephants'
who supposedly compete with their eyes fully closed.
On their uniforms they've scribbled 
the text of team movements in layers of grey pencil
on light parchment gear. It is said
they remember. It is said if shucked open 
their brains are not 'blankness' but instead
slung with ink. For practice, we ambush
some trainers that scamper 
in an elephant costume all over the field.
I do not understand this. I forget where I am. If
my tackle is blank, I fill it in with a blur. 
This is my first draft. It is game day, and now past
the populace a comment on my athletics
is flashed. I'm so dominant an extreme 
in my complex of living that each day begins
backwards from each hit I divvy.
So I join up team Keep Sleep. My back has a digit. 
In a minute, I'll witness the wipe of my tackle.
Lauren Haldeman is the author of the poetry collection Calenday (Rescue Press) and the artists' book The Eccentricity is Zero. Her work has appeared or is forthcoming in The Iowa Review, Fence, jubilat, The Rumpus, and Colorado Review. A comic book artist, illustrator, puppeteer, and poet, she works as an instructor and web developer for the University of Iowa. You can find her on twitter @laurenhaldeman or online at laurenhaldeman.com.
Photo by Naphtali Marshall