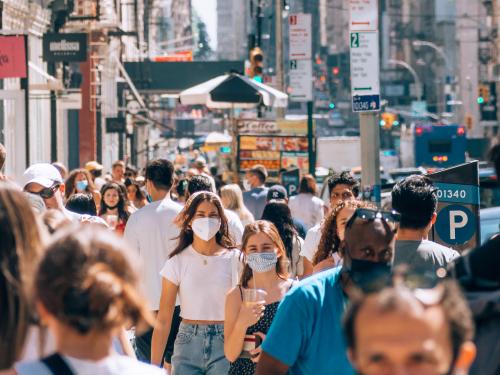 The last thing my wife says to me today. "You can do a lot more than order cables."
We choose the wrong Starbucks. I'm on day five of the Omega Point program which means every morning I follow instructions and go through a script from the program one-on-one with another man from my men's group. Today the instructions ask me to only use five emotions to describe my feelings: mad, sad, glad, fear, and shame. I feel fear as I contemplate the missed Zoom calls, chats, and disputes I can file in the time it takes to find a coffee shop. With ten people on our list and most of them in Queens I calculate our volunteer shift will take four hours. On the way to our first delivery Claire spots a drive-through Starbucks. Would I like to start with coffee? Even though I notice a long queue of cars I say yes. A start to meaningful work is coffee. The car pulls into the Starbucks parking lot and we notice the line of cars snakes all the way around the building. Cars start lining up behind us yet somehow we escape.
After completing a few deliveries Claire says, "We need some sort of reward." I usually don't order sugary drinks at Starbucks but pumpkin spice latte is a throwback to Claire's youth. "At least once a week after school I would go with my friends for a frappuccino and try on makeup." Over the past few years I had this desire to wear makeup and dresses so I picture high school romps through department stores. I associate high school with shoplifting.
The past few days I've been stressed out about applying for unemployment. My parents hate everything about unemployment and any sort of government assistance. I grew up in a small ex-Brahmin Indian community that is a wasteland of valedictorians and Ivy League graduates. Good immigrants learn the master's sound. Violence and freewheeling discrimination forgotten with acceptance letters and offers. Embarrassments are souvenirs that I have unfolded since you left. meyousickness
As we drop off bags of food the faces of the people we meet blur into a mishmash of my mother. Most of the people in need can't come to the door to pick up the groceries. Half don't speak English. I call them up five minutes before we arrive and announce that we are two volunteers from the Kings Bay YMCA bringing groceries. I'm not convinced by my own script. I don't remember our volunteer organization. Vaguely Jewish and Russian names at the YMCA where we picked up the food don't provide an opportunity to ask. The people in need are elderly. I catch a brief glimpse of frail figures sometimes with walkers or oxygen tanks. There's a building where several people loiter outside. The narrow hallways, lights with no circadian rhythm, visible pipes, parquet flooring combine to create a queasy feeling of claustrophobia. I feel shame.
We leave the groceries in front of doors and stand six feet away. I begin to feel glad as we tick names off our list. "I wonder how this system works when you're disabled or couldn't do your own shopping even before Covid-19," I ask Claire.
I don't feel glad anymore. I don't know what it is. I don't know where I am.
"In India most people over forty don't get the virus because they are from the village and grew up eating mud," says my dad. My conversations with him are bereft of any grief for the present.
About a week into the shelter in place he asks me, "Are things improving in your area?" I don't know how to answer. During the crisis people caught their breath for the first time.
My dad has high blood pressure but refuses to take his medicine. This leads to an emergency room visit. The CT scan shows numerous microstrokes in his brain.
After his emergency room visit I receive two phone calls and an email from my dad. The first phone call is to tell me about a breathing technique that would keep the coronavirus out of my lungs. The second phone call is to ask how I am doing. My dad begins to send out more emails about how to treat the coronavirus with different teas and homeopathic treatments.
I ask about his blood pressure and meds. "You know the last time I was at a doctor's office my systolic was 150, but usually it's white coat syndrome so I ask the doctor to take it again and it comes down to 130. But this time it didn't. Usually I do Ardha Kati Chakrasana and the count reduces, but due to social distancing I had no room to do Yoga," he says.
"If you're taking your medicine then your blood pressure shouldn't be high."
"Yes, I'm taking it but I don't want to increase to a higher dose. That's why I need to work on relaxing my mind," he says.
My torturer tries to hug me.
My father's customary way of greeting me is, "Hey, Chief!" A clip of brisk dialogue that sets the stage for deliveries of no content. "How are you feeling?"
"Great!"
I never find out what my dad feels about his CT scan. He is sick and I am sick. A Yogi turns disadvantages into advantages.
My dad handled the final rights for his father when he died and never knew his mother. She passed away when he was three years old. When I think of home, I think of vegetables reduced to flat states of desire. This story so far is about food, about war, about the sight of money. About not seeing money until I am older. About a mother who works from sunrise to sundown. About working and receiving a root as compensation. About having to grind down this root. This story is about one ingredient available to eat and only in the evening. Hunger is the enemy of happiness.
There was a part of my talk with my dad that filtered out of my extremities. Interactions with a final version of an old design. Upstart behavior is a kindness to myself. I think the next part of the story will be about the different kinds of food that someone would eat when they are on the run. I think the next part will be about a man who walks with a docile face, sheds several pounds after a fever.
Because I know you, we drink coffee, we read the same books together. Dehiscence.
N calls me and says, "Your mom keeps reassuring me that at least you have a job. It's as if they are reliving their own immigration story."
For the past three months I have been separated from my wife. N.
Immigrants are the language of injury.
N grew up in a place where she didn't have to look at the ingredients of food. About the only thing I have to say to N is that I love the present tense.
I fight off the coronavirus. N says my intelligence has been impaired. It's true I find it hard sometimes to put sentences together. My emails lack proper punctuation. Proposals and paragraphs which would take fifteen minutes sometimes take days. "I can be with anyone but I can't be with an idiot," says N.
It's surprising how little I have to write about. My vision is that I used to write long journals until I discovered love and sex. I would spend an hour or two writing each night. I blame my parents for not supporting my writing but that's become a mantra. I continue to map reason onto events until I meet N whose English lowers my cholesterol.
I could write about third-wave feminism, my immigrant experience, my favorite books or movies, but what I really want to talk about is my iMac. I spend nearly three weeks sitting or lying down in my room obsessed over the little guy. I never thought I would spend evenings watching YouTube videos, booting up different games, slaughtering dark elves while tech executives go on dopamine fasts. I check my email hundreds of time a day. The screen time feature says I spend a cumulative sixteen hours on my phone and computer. What did I actually accomplish in the seventeen days so far?
How do I write something beautiful? I mostly stare at the screen. I check email and shop. What messages am I waiting for? I go through the day underlining beautiful language. Why are men's diaries called journeys? I plot comebacks from my bed.
Someone posts that anyone advertising a two week fast is incredibly insensitive since many people are anxious about food. Charts on the news show Americans are spending more on groceries. Cases of domestic violence are up. Public schools are closed down for the rest of the school year. Universities debate whether the fall semester will be virtual.
Claire goes to the grocery store and many people ignore social distancing. People bump her. Somebody asks her to get something high up for them. My housemates complain about the men on the street not wearing face masks. Risky males. One of my housemates is a medical student and I overhear her talking to her wife. "Almost all the people who call in to the hospital to check on our patients are women. Mothers, daughters, nieces, wives. Men almost never call."
For the past few days N has been my primary contact with the outside world. Part of her academic research is how women are remembered as muses for famous male artists and never for their own artmaking. I design a class to teach in my head called Retooling the Muse.
Our lawyer gets back to us with discouraging news. Due to the pandemic the U.S. embassy in Rubeden has shut down and there's no chance for visa interviews. It is unclear when they will open again. This means N is stuck in Rubeden indefinitely.
N comes at me with an intensity I am familiar with. This is where she accuses me of lacking intelligence, or losing some intelligence during the coronavirus. "I speak a lot about feelings and missing you and you don't say anything," she says.
What is my topic of research? What is my goal in life? The aim is to make a lot of money. The aim is to be useful. To be useful. "I haven't gone to see them in a few years, because they haven't been useful to me," I might say.
Who would have thought that I would live through a pandemic, that I would be in the hot zone?
"Why do you clean up after other people?" I overhear my housemate ask Claire.
"I clean up because I need the space to be a certain way," she answers.
A room to live out my days. The title of the story is 1024 by 640. The text too small.
"Mental illness happens when you are not busy enough," my dad said one time. The cure to mental illness is to let your parents marry you off.
"Who wrote the prayers in the long houses with the kitchens at the back?"
It's as if someone only learned the first three letters of the alphabet and not all the letters. Then tried to speak about everything with three letters.
I'm afraid I will never be able to tell an interesting story. Sometimes I can see outside my room through the gap in the door frame. Just a little bit of light and movement. I don't know why I don't like to open the shades. There are so many things that I don't need that have pressed upon me.
My mom sends me a video where two people talk about how the virus was kept secret by China to sabotage the U.S.-China trade deal. My parents blame the virus on communities who live in crowded dirty conditions. My beard makes me feel shame yet shaving is such a pain.
Some people might be asking why, if they didn't ask for handouts and they are at the top of their class, they still get racially attacked and blamed. Why are they still alone?
I love the way N designs a place. Low level tables. A bed that floats on the floor. Stacks of books under gold trays. I live in the room we shared in Brooklyn that she designed. In the morning it's so cold and we fight about language over the phone, fights make us pull off the road.
Calling Roma crows is a zoomorphism, I read. We are both broken from our language. Can bilingual people understand nonbilingual people? N and I never speak Rubeden. N talks about a friend of a friend who doesn't speak French but wants to learn because her husband is French. She signs up for a class at Stanford and within a semester she has learned the language. "She's an exceptional case," says N.
I start text messages with an old friend and ask, "Are you dreaming of buying anything?"
I find a cure for my shopping self-soothing. I buy things for other people. I fill a whole box with makeup and clothes and send it to Rubeden. I send another box with vitamins and books. Finally I send the iMac to Rubeden. I refer to them as stimulus boxes.
During my coronavirus my mom tells me not to ask anyone else for money. "Keep it in the family," she says.
I try harder than most to do this. I clean the bathroom to the time of an album. My brain is wiped. My brain is disintegrated. My dad has cortical atrophy. Nonsensical.
"I don't speak Rubeden to you because the conversation would last three minutes," says N.
"So what's wrong with a three minute conversation. You're used to having complicated conversations not basic ones."
"It's not my job to teach you Rubeden," she says.
"I never said that it's your job. My connection to Rubeden is self-fulfilling. It mostly has to do with you. I want to speak with family. My connection to language is through bodies, not through words."
"You should take a class, start Duolingo," she says.
I would like our language to be asunder. "I'm a child and you're a women," is the first translation I make in Duolingo.
"When my parents speak in Tamil I respond in English but at least they still speak to me in Tamil," I say.
"When?"
"Just a few days ago my dad asked me in Tamil, how are you? I didn't respond, so he asked again in English," I said.
"He considers you Indian," she said.
"The weird part is not that I don't speak Rubeden well or that it's not your job to teach me, it's that we never speak Rubeden."
"It's an optional thing that you just have to practice," she said.
"It's not optional for me," I said. "It's life and death."
"How can it be life and death?"
"Because I keep coming back to it and sometimes I feel I can't breathe."
I try to talk with her. I don't speak any Tamil.
An American friend of mine who I met a long time ago is fluent in Rubeden after a few months. In Rubeden he uses his language skills on cross-country trips to screw girls.
She sends me an article that talks about how people with Rubeden genes are less likely to be affected by Covid-19. I try to fight back. The whole conversation makes me angry. Often at the place of scalding I reach my blistering ideas.
One evening I go out to find rainbow chard. I am an avid smoothie recipe follower. My new recipe mixes sixteen different fruits and vegetables that reboot my system. I take a walk around town and have this aching remembrance of walking the city with N. "Have you been outside Ditmas all this time?" she asks. Two months into the shutdown and I haven't left my neighborhood.
There is a spirit of walking beside me. I write about it because the streets are for people who like fighting. Empty restaurants, not many people out. It's true what people are saying on social media. Sirens and police cars. On the beltway I pass a few lone joggers. Four girls passing smelling breathlessly of peppermint. On the way out to the main road I am accosted by an older man. He points for me to take off my mask. "Could you please turn off my light?"
Is it the week of Passover? I follow him into his home, antique furniture and large dining tables with white tablecloths. Some sort of school downstairs, words on doors written in Hebrew. I follow him upstairs to a room in the back of the apartment. I flip the switch. On the way down he asks if I want some chocolate. Like an idiot I respond yes. There is a pandemic and I say yes to free chocolate and Starbucks. "It's good chocolate, just throw away the wrapper."
I leave the chocolate on the kitchen table and my housemates eat it. "Whose chocolate is this?" asks Claire.
"Someone gave it to me on the street," I confess.
Nobody believes me. "His mom sent him a package last week. It must have been in that," says someone.
I rationalize that most of us have had symptoms.
My dad calls. "Can you help me? My email is full." We work together to solve the problem. "It takes some time to get the hang of this damn thing," he says.
I make natillas that evening. One of my students, Gregmary, mentions in class she used to prepare this dish with her family for Christmas. In the evenings I teach ESL to immigrant students online. I start teaching before I am fully recovered. I am an artist relying on a teaching job with a language school in Manhattan. The director of the English language school doesn't speak English well.
The school provides visas to students in exchange for English classes. The students aren't legally allowed to work and most of them do. The first student to get sick works for Clorox. During class Paula used to bring me free hand wipes. I rip open the package and she scolds me. "Teacher, that's not the way to open the package! I'll bring you more next time, please throw that one away."
One of my students is a nurse and has two daughters. Chris says he has been sick for two weeks with a fever that left him unable to stand. He quarantined himself and his wife and daughters took care of him. He tells me this while calling me sir. My immigrant students call me teacher and sir despite my corrections and my American students use my first name. I circle around whose language gets to speak.
I imagine that I will teach my students from Rubeden. It will be the middle of the night as I wait in the virtual lobby but my student won't know the time difference. Some teachers have a ten-minutes-late allowance but not here. Students drop in during the first half hour of class from the afterlife. Sometimes they disappear and reappear and it is as if I have lost them and can catch them again.
I finally clean the kitchen, my chore for the previous week. I think about Ben Lerner's poem in the New Yorker about walking and saying something, calling someone and leaving a message, and about how those words, when they are registered, reflect back to you when you are already older.
I'm trying to figure out why walking around the city is when I miss you the most. It's the spontaneity of conversation, of stopping somewhere, small excitements.
Tomorrow I'm making tomato soup, grilled cheese, salad. The natillas are already there.
My snap-back moments are increasing. I drive around in my head. The pause on the throat, hit the relax button. I'm trying to fish myself.
To have immunity to a disease is complicated. HIV offers no antibodies, the measles and chicken pox offer lifetime immunity. Will I be immune? I walk around like I am.
Much of time is trying to defrost bread. I start alternate-day fasting. Alternate days of intelligence. My mom texts and says it is Tamil New Year. When my mother dies I probably won't ever remember when it's Tamil New Year. You can't show your difference in the outside world so keep it indoors.
I am so happy to translate from Rubeden to English, a dream quality of subways mixed with dog faces. Who taught me to eat salads, who trained me to want to live lengthily? Some information makes sense.
Do I have to stress about something for it to be real? I watch the shopping and the shows out of the corner of my eyes. I see my twenty-year-old roommate listening to Jesus sermons as she gets ready in the morning. You know that justice is coming, you overhear, whose justice? You didn't despair enough. Do not cling is your mantra, yet you make light to a fault.
The language has no songs, no coming out a winner. The everyday can flip the tables on you. Many years later my swipes come to light. I am soft and probably won't make any money. My obsessive ordering of mozzarella sticks. That evening I take out the garbage. It's my chore for the week, carefully arranging the compost, recycling, and trash. A man's garbage is more important than the man.
Every Sunday I attend the inaugural class of the Bombay Writers' Workshop with Sanjena, Janki, Nick, Amrith, Ankit, Shreya, Paul, Sanket, Soham, Kishori, and Evelyn. I tell people I have the Bombay Writers' Workshop. Many of the things I do are because of word sounds.
In Rubeden, N goes to translate our marriage certificate so when I need to visit her I can stay forever. The woman at the office gives her a hard time. She can't understand the way my mother's name is written. What is the first name and last name? N explains that the first names of my parents are related to the locations of their birth. It doesn't match. The English marriage certificate lists my mother's maiden name. Did the marriage take place in Norwalk or Los Angeles?
Norwalk is the county and Los Angeles is the city, N tells her. The woman continues resisting, she doesn't know how to handle the discrepancies. N brings driver's license copies from my mom and dad. It doesn't help. The next day N brings her mother to talk with the woman. Are you really having difficulty or is it ill will? N's mother asks. Pointing out how the woman's attitude makes the process impossible calms the situation.
"Do you think she's xenophobic, sees a foreign name and doesn't want to deal with it?" I ask.
"No, she's giving me a hard time because there's a stereotype that women from Rubeden go abroad and marry foreigners. She considers me a whore."
"She's a woman. I thought she would understand," I say.
"She probably looks down on Rubedens who marry foreigners for money to build a life abroad. She may have had to deal with lots of people like that. I've seen this behavior before. That's my country," says N.
A language expert says memories exist in the spaces between the different parts of our brain. Is my brain shrinking each year? Many weeks later the Rubeden marriage certificate comes back with a blank space where my mother should be.
For some people immediate rewards are more appealing than delayed gratification, poverty affects our genes.
Several
events
exacerbate
the
situation.
N
receives
a
grant
from
the
U.S.
state
department
requiring
her
to
go
back
to
her
home
country.
In
2016
a
new
administration
brings
restrictions
and
delays
for
immigrant
visas.
A
global
pandemic
shuts
down
most
U.S.
embassies.
Which
brings
me
to
the
topic
of
the
next
essay
hoarding.
My housemates and I go for Covid-19 antibody tests. Two of the results are positive, the other two negative.
N reads in a visa forum that Americans married to aliens wouldn't receive stimulus checks. But a few days later we receive our stimulus checks. Then N sends me a news story where the IRS asks dead people and nonresident aliens to return stimulus payments. "That doesn't include me because I intend to immigrate," she says.
I bring up the unemployment question to N and it is a trigger. Our risk assessments are different. We think asking our immigration lawyer would settle the issue.
Our lawyer says I can apply for unemployment. He advises against other forms of benefits but unemployment is safe. His message goes on to say something like we live in an age where the current administration shows no regard for the principles of law so actually, any outcome is possible.
After emails from our lawyer I think the risk for applying for unemployment is low. N reads the message and sees high risk, forbids me from applying. "You are going to jeopardize my PhD, my life in the USA, for a deal." I sit around for days with her feelings. No analysis, computation, or evidence makes me feel less somewhere between shame and mad. I wish the machine is built for ear. I wake up at five a.m. several days in a row and file some disputes with American Express. After filing the disputes, sometimes I go back to sleep. Mostly I type my fears into google and stay awake.
N listens to an evangelical financial advisor on YouTube who gives advice to callers. He tells them it's not their fault and verbally beats the debt out of them.
"Maybe we should talk about whether your goal in life is to be wealthy," says N.
Our lawyer responds about an email from the Consular Electronic Application Center that says our documents have been accepted. However, when N logs into the website she sees a message with the title "Need Document." When she clicks on the message it is empty. I wonder if I will get enough rest but I still want to wake up each morning to hit refresh.
Try again and again and again. When you try, click on the "Need Document" title and wait several minutes because sometimes it's just a glitch and will show up later. After a few minutes, give up. Then click again. Sooner or later you'll be logged out automatically and have to log back in. Replicate the process many times in a row throughout the day and on different days.
N searches the internet forums to read what other immigrant applicants are doing about delays in the process. She finds an emergency phone number and asks me to call it. I do and the person who responds gives me an email address. Our lawyer says the email address is probably a hoax and doesn't believe it will work. He scolds us for doing our own internet sleuthing and contacting the National Visa Center without him.
Nevertheless he agrees to prepare an email and sends it. N goes on the forums and tells me of an incident she reads of a client who called the NVC and asked for expediting the case because he (the U.S. citizen) couldn't survive financially without his wife present. That promptly leads to a denial of her application based on the finding that the citizen could not support the immigrating wife.
Somebody responds to the email. After months of waiting N's documents are forwarded to the embassy in Rubeden. Everything works all of a sudden. About two months later N is in Brooklyn.