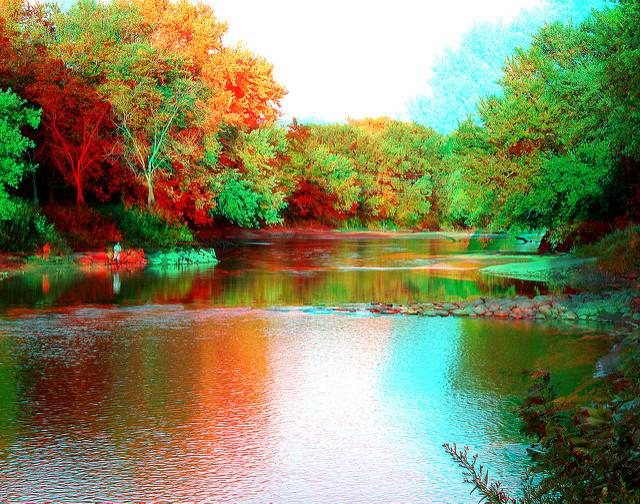 A mosaic of all possible greens becomes
a premise in your eye
—James Merrill 
It became profitable to turn rivers
Out, out from their old, mechanistic ways,
To things crackled with goo, algae, aluminum,
Perfluorooctaneoic acid, said to be
Emerging, so blooming, & all the
Treated shit, whole sheets of it, trillions
Of gallons, good chemicals, fertilizers,
& the beautiful guesswork of deterioration.
Utility has a way of unmaking
Through each invention; I wanted to stop
Want itself; or submit, to crunch the polymers good
Before swallowing them whole.
Take for example the hinge
As replacement for tinged or singed.
Oppen seems related to Oppenheimer,
Heimlich to hemlock, key to needle & thread.
Less say to the essay, more es—can an is-ness
Not become a body subject to labor
As liquidity (how nice a figuration), fitted like a pro,
Balloons for planetary takers, tycoons,
Rip-roarers, market watchers,
Gold-tongued gamblers, betters all extraordinary all?
Lol is punctuation; as stated previously
By a famous writer, suppose
Any corollary, puncture rupture,
Fissure, sure, fire, ur, um, fish for his—
A pragmatist writes an essay
About suicide as the freest possible act;
The streets shiver, trees sway in the ease of
Atomic collision. Chaos is not so bad.
So sayeth—weren't we talking
About hydrogen, carbon, & fluorine? Wasn't
I listening badly, poorly, unglued, & ugly?
Louisiana floods, Boston police (strong union reps)
Agree to wear cameras
Then don't, hundreds of people slaughter pigs
With chainsaw-like saws forty miles away.
It's a cheap bag of tricks—the Trinity Test
Wasn't what I expected, but then again
The American Legacy wasn't sold
By admitting to an extermination urge . . . let's not.
Let's look at the flowers, or the ants
Ripping apart the carcass of a praying mantis
Methodically, converting it to bite-sized chunks
Fit for consumption. For fuel.
Jonathan W. Stout was born in Denver and lived in Parkland, Washington, where he received a BA from Pacific Lutheran University before receiving an MFA from the Iowa Writers' Workshop. Currently he's an assistant visiting faculty member in the rhetoric department at the University of Iowa and teaches undergraduate creative writing classes. Poems can be found in Prelude Magazine and elsewhere.
Photo by Jim Frost