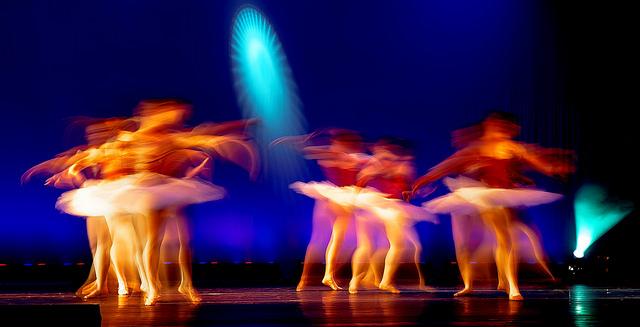 One minute she was dancing—a faint
                layer of sweat, a tight blue dress—and then.
Her boyfriend said her death sounded
                like humming, said he'd never put his hands
on love again. When God's not looking, X
                and I scrape around for videos of this
woman's spontaneous combustion. We
                don't really have to be quick about it—
God's blinks last a long while: X could twine
                the beaks of twenty starlings and still have
time for a nap. I could wear a belt of figs
                and mantis wings while begging X to
blow on my pink belly, and still—Hell, I
                could sweep dirt under God's eyelid and
bear witness to the nothing that comes of it. 
And nothing comes of our search for
                the glowing woman. X is relieved. He thinks
if I saw her I would fall in love, Just look
                how you drip and swoon for the sun. X has been
suspicious ever since I fucked a woman
                in his dreams. I'm grateful for his insecurity—
a distraction from the arching sadness of Earth,
                who offers us so much bad news we force
ourselves to create bright sides. X says God
                caused this winter's painful warmth by playing
poker with our solar system. What bluffs! 
                What changing tides! But His losing streak
has got to end sometime, right? The bright
                side is coming. Soon, we won't have to
move to boast a home with an ocean view.  
Paige Lewis, whose poems have appeared or are forthcoming in American Poetry Review, Ploughshares, The Massachusetts Review, The Colorado Review, and elsewhere, is the 2016 recipient of The Florida Review Editors' Award in Poetry, and is the author of the chapbook, Reasons to Wake You, forthcoming from Tupelo Press.
Photo by Sam Cox